Manly Edward MacDonald
'The Life & Times of Manly E. MacDonald'
by Charles Beale
Manly E. MacDonald Update October 2012
Charles Beale Book Signing Saturday, October 20, 2012
Charles Beale's landscape book brought both many memories of MacDonald to light as well as over 1,200 of his paintings. Included were many stories of MacDonald's honesty and integrity. He sold art to live, but he lived to paint.
Beale, who recently had a book signing October 20th at Chapters/Indigo in Kingston has a unique photo of Kingston City Hall, painted in winter by MacDonald in perhaps the 1920s. It is one of his finest and yet, the actual painting has never been found.
"I finally received a copy of your book yesterday but have only had time to give it a very quick perusal. What a magnificent achievement on your part from the beautiful photos to the excellent narrative! You may be sure that in the days to come I will be immersed in the life and work of this superb artist, thanks to you... I am absolutely enthralled by your book - when I got to the photo of Autumn on the Salmon River I instantly broke the tenth commandment.What a masterpiece it is and I greatly envy the owner."
Sincerely - Audrey Graham
New Book: Manly Edward MacDonald: Interpreter of Old Ontario
"As many of Quinte's community members already know, Charles Beale has put out a gorgeous book about our beloved Manly MacDonald. Hailed as a great Canadian painter whose style is similar to the Group of Seven, MacDonald has made a very significant, valuable contribution to Canada's art culture."
"I received both copies of the book earlier this week and have already read it. I would like to congratulate you and thank you for producing such a wonderful book. The quality of the colour reproductions is excellent and the text was entertaining and informative. I collect illustrated Canadian art books and this rates as one of my favourites of the 165 books that I have collected to date."
- Terry Carter
Manly E. MacDonald FALL UPDATE 2010
Manly Edward MacDonald - Interpreter of Old Ontario
was officially launched September 8th in a gala opening at the John M. Parrott Art Gallery in Belleville. Paintings and portraits from the Parrott collection, as well as those from Loyalist College and private collections were on exhibit in the three gallery halls. As well, Glanmore National Historic Site showcased items previously owned by the MacDonalds and some of his sketchbooks.The Federation of University Women of Belleville and District displayed items showing their long association with the painter. Wine and canapes were served by the staff of L'Auberge de France, Belleville.
Click here to read more.
Manly E. MacDonald PRESS RELEASE
AUGUST 16, 2010
A HIGHLY REGARDED LANDSCAPE BOOK...
Manly E. MacDonald Interpreter of Old Ontario has been just been published by Plumley Press and Friesen Corporation. The 192 page book by biographer, Charles Beale has already been acclaimed by book store and gallery owners.





The Red Barn
The old red cow barn figures prominently in this summer landscape, probably painted in Prince Edward County. The grey shaded road cuts a swath across the centre of the piece and is reflected in the colours of the mixed forest and hills beyond the barn. Cattle graze near the water's edge. This painting was purchased from Gordon Huck, of Cobourg in 1994 and is in a private collection in Napanee. (12 x 16", oil on board, framed, signed lower left, 0712).

---

Roblin's Mill, Ameliasburg
The spring colours assigned to this famous Ontario mill are muted in shades of greens and browns. Blossoming apples trees in the foreground are painting abstractly; much more so than the mill buildings, providing an unusual contrast. Roblin's Mill, originally built in 1842 was torn down and reconstructed at Black Creek Pioneer Village,Toronto in 1984. This painting is now in a private collection in Napanee. (12 x 16", oil on board, framed, signed lower left, 0536).

---

Salmon River at Kingsford
The rich use of colour in this summer landscape make it pleasing and warm. The ruddy river flows quickly under the old bridge and mill, while a worn road circles up from the valley floor. Warm blues, and greens dominate the colour scheme. This site, near Lonsdale has been irreparably changed with a new bridge and the roadside hill scoured out for gravel on new roads nearby. This painting is in a private collection in Napanee. (12 x 16", oil on board, framed, signed lower left, with a signed sketch verso, 0515).

---

Tilling the Land
This figural landscape is one of MacDonald's more traditional pieces. His signature blue sky with its quick-moving cumulus clouds provide the backdrop to a farmer and his team of three work horses tilling the spring soil. In the distance are green fields full of the promise of spring. (16 x 20", oil on canvasboard, signed lower right, private collection).

---

Belleville 1935
An early waterscape in semi-impressionistic style. The tall spires of the city churches and city hall pierce the cold cloudless sky. Early buildings in stone greys and rusts, some long-gone, hug the shore of the Moira River's cold dark blue rushing waters. (10 1/2 x 12 1/2", oil on canvasboard, framed, signed lower right, in a private collection).

---

Schooner in Port Hope Harbour
An earlier waterscape painted by MacDonald a number of times in different seasons. The streaky cold cloudless sky casts weak shadows on the schooner and wharf buildings in this semi-impressionistic piece. Newly fallen snow dots the buildings and the harbour wall in the foreground. The schooner's masts pierce the winter sky causing tension in the painting. ( 8 1/2 x 10 1/2", oil on canvasboard, reframed, signed lower right, in a private collection).

---

Portrait of Mr. Murphy
Although MacDonald did many traditional genre portraits, and many as commissions, Mr. Murphy is outstanding as a semi-impressionistic piece. The black background ensures that the features of the sitter are enhanced. Murphy's ruddy complexion shows a serious character who has worked hard, but against his jaunty red and white checked shirt and suspenders one detects humour. He looks relaxed and used to sitting comfortably on a straight chair while holding a cigarette. Oil on canvas, 91.44 x 76.2 cm, framed, signed lower right, Parrott Foundation Collection, Belleville, Ontario.

---

Cape Breton Coast, Keltic Lodge
This stunning seascape of the rocks and waves below the old lodge is full of movement and reflected light. The greens and blues of the waves crash against the ruddy coloured rocks intensifying the unfolding drama. The Cape Smokey 's high shore is covered in mixed forest in hues of blues, browns and greys, and the sky above is a calm grey mocking the action below. (28 x 36", oil on canvas, framed, signed lower left, 0077)

---

Sugaring Off at a Sap Shanty
A richly coloured semi-impressionistic landscape in blues and slate greys with bright highlights of a traditional late spring event in Canada. Oil on board, 26.67 x 34.29 cm, framed, signed lower left, newly cleaned 2008, PFC.

---

Our First House, Point Anne
This ramshackle farmhouse is set in pleasant fields of greens and yellows, in sharp contrast to the greying house and outbuildings and the vibrant blue of the lake. Family photos indicate this to be their first home at the point, and so Beverley is seen entering the porch. Oil on canvas board, 30.48 x 40.64 cm, framed, signed lower right, newly cleaned 2008, verso is "Our First House", and "This belongs to Sally MacDonald", Parrott Foundation Collection,Belleville, Ontario.

---

Boys on the Beach
One of MacDonald's signature pieces is created in this charming figural waterscape where two sunlit boys fishing for bait in the shallows. While one hatless lad dips for minnows, the other older boy in a straw hat and holding a wooden pole waits anxiously for the result. The aquamarine waters of the bay stretch to the horizon and the bright cloudless sky. Oil on canvas, 60.96 x 76.2 cm, framed, signed lower right, Parrott Foundation Collection, Belleville, Ontario.

---

Belleville Harbour
One of series of etchings, often done in pairs of a fishing schooner in the harbour buzzed by seagulls overhead. MacDonald would have also done an identical etching in aquatint. ( 6 1/2 x 8 1/2", framed,named in pencil lower left,"Harbour Belleville", and signed in full to the margin, lower right, Glanmore House National Historic Site, Belleville, Ontario.)

---

Painting Gear
MacDonald's paint palette, brushes, easel, and an unfinished winter landscape. (J. M. Parrott Gallery Collection, Belleville, Ontario).

---

Sketchbooks
MacDonald used any number of sketchbooks to prepare for his paintings. This sketch, during one of his European travels shows women huddled in blankets aboard the S.S.Corsica in 1921. (Glanmore National Historic Site, Belleville, Ontario).

---

Summer House
Manly & Beverley MacDonald's summer house, the Long Reach, Napanee. (1956-1971).

---

John A. Libby Fine Art Booklet Series
Manly MacDonald, A. R. C. A., O. C. A., O. I. P. (1889-1971)
Manly MacDonald never painted a landscape in his studio - he always painted them outdoors. MacDonald was a member of the Royal Canadian Academy, becoming an Academician in 1948. He was a founding member of the Ontario Institute of Painters in 1958 and taught at the Ontario College of Art. This renowned artist was exhibited internationally and has works in the National Gallery of Canada, Art Gallery of Ontario and in the Royal collection of Queen Elizabeth II. Find out why he is called "The Interpreter of Old Ontario" by Author, Charles Beale.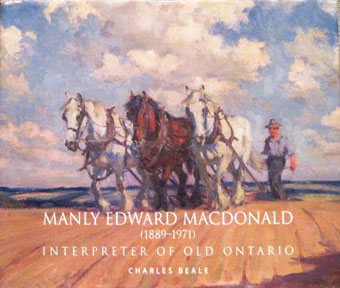 Manly E. MacDonald
Interpreter of Old Ontario
by Charles Beale
Buy the last copies... Not to be reprinted.
Purchase directly from this site:
$75.00 tax included and signed by the author.
Shipping varies as to location in Canada.
Ontario shipping is $ 12.00 incl.
MANLY EDWARD MACDONALD
(1889 - 1971)

Born at Pointe Anne, Ontario
1910 attended the Albright Art School Buffalo
1912-13 to Boston School of Fine Arts
1914 enrolled at Ontario College of Art, Toronto
1918 granted Royal Canadian Travelling Scholarship in Europe
Elected member of the Ontario Society of Artists and the Royal Canadan Academy
Taught art at OCA from 1946- 1960's
1948 made full Academician of RCA
Resigned from OSA in 1951 over "creeping modernism" in Canadian art circles
1958 became a founding member of Ontario Institute of Painters
1959 commissioned to paint Toronto(s waterfront as a gift to Queen Elizabeth II
Accomplished Portrait painter
Landscapes and mills used by Coutts Hallmark/Hallmark for Canadian Christmas Card Series
After 4 decades of painting on approximately 2000 canvasses, dies in Toronto, age 82